DIRECT MAIL CAMPAIGN DESIGN
Client Profile:
SiteWorks, LLC is construction company specializing in Excavation, Public Utilities and Plat Development.
Objective:
Siteworks, LLC approached our company to help launch their proprietary estimation program called 
AccuEstimation™.
Target Audience: 
Our highly targeted audience was comprised of 24 Bankers (construction loan officers), Investors (for 
land development), and Realtors that deal with land sales. This audience was compiled from a short list 
of local business contacts vetted and deemed qualified by the client, four weeks prior to the first 
mailing.
Solution: 

Our goal was to introduce both Siteworks and AccuEstimation ™ to a highly targeted 

audience by identifying the major pain points of the market and skillfully communicating how 

AccuEstimation ™ can alleviate those major pain points. We also wanted to create excitement among 

recipients and provide a lasting - 5-Sense reminder - of Siteworks, LLC services to generate future 

business.

​​​​​​​​​​​​​​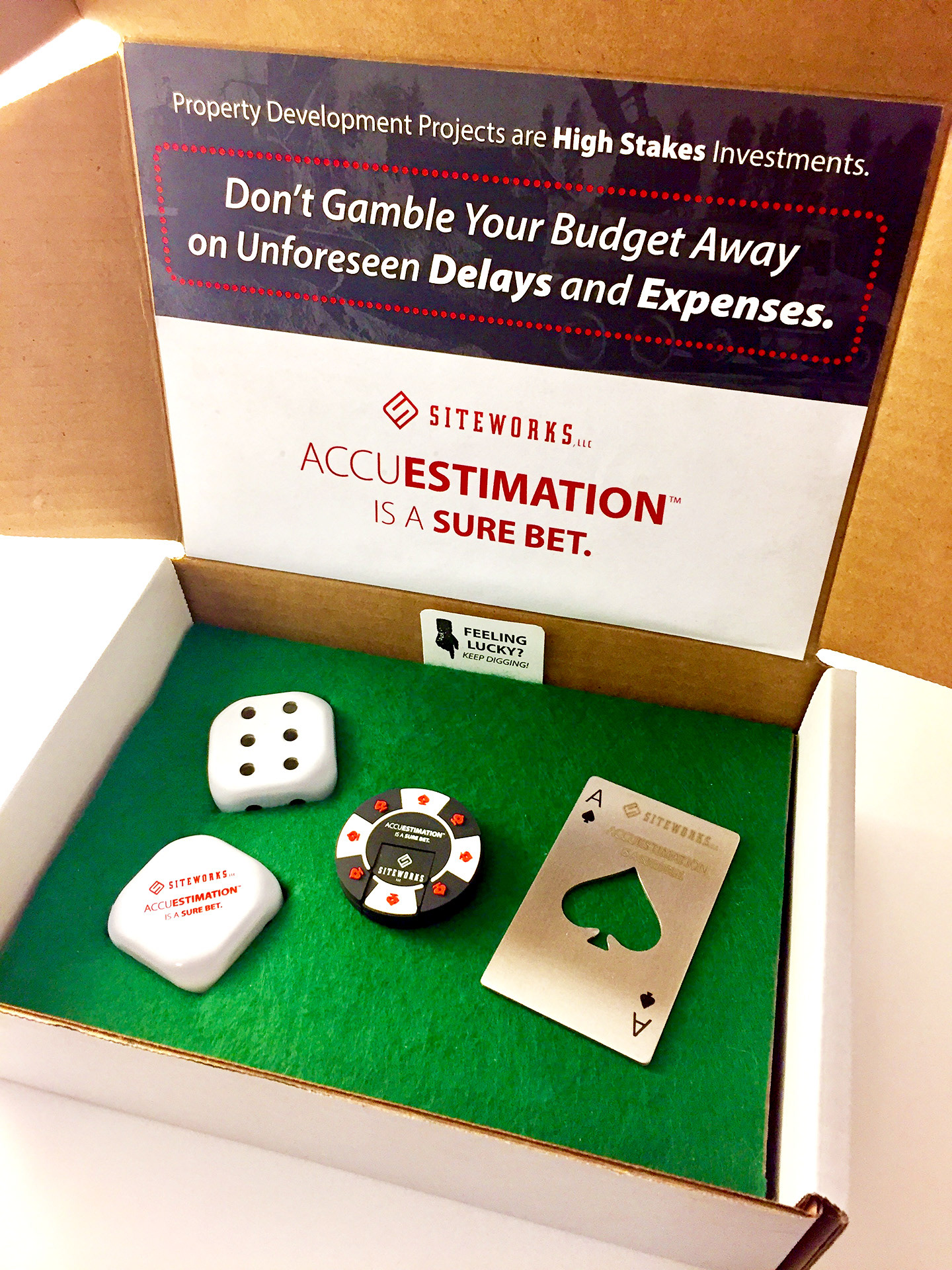 The mailing was a self-contained display, that when opened featured clear messaging on the inside lid 

declaring: "Property Development Projects are High Stakes Investments. Don't Gamble Your Budget Away on Unforeseen Delays and Expenses. Siteworks, LLC AccuEstimation™ is a SURE BET." The box contained a green felt "casino table" interior with 3 theme supporting promotional products. All three were imprinted with "Siteworks, LLC AccuEstimation™ is a Sure Bet." The three products were two branded Dice tins containing Red Hots candy, a stainless-steel Playing Card bottle opener, and a Casino Chip USB Flash Drive loaded with a short introductory Power Point presentation.
Recipients were enticed by a small tab to "keep digging" if they were "feeling lucky" allowing them to pull the "casino table" up with ease, exposing a personalized introduction letter informing them of the Power Point presentation on the Casino Chip Flash Drive. Also included was a Full Color Tri-Fold Brochure about Siteworks and additional literature on AccuEstimation™. The client mailed approximately 5 boxes per week for 5 weeks to allow adequate time for follow-up. We instructed the client to follow-up with a phone call a day or two after the package was scheduled to arrive, to confirm they received it and to introduce herself personally.
Our total budget for the direct mail promotion was $5,000 and we spent approximately $4,000 on the entire program coming in under budget by $1,000. In all approximately $1,300 was spent on promotional products and printed collateral for the promotion mailings.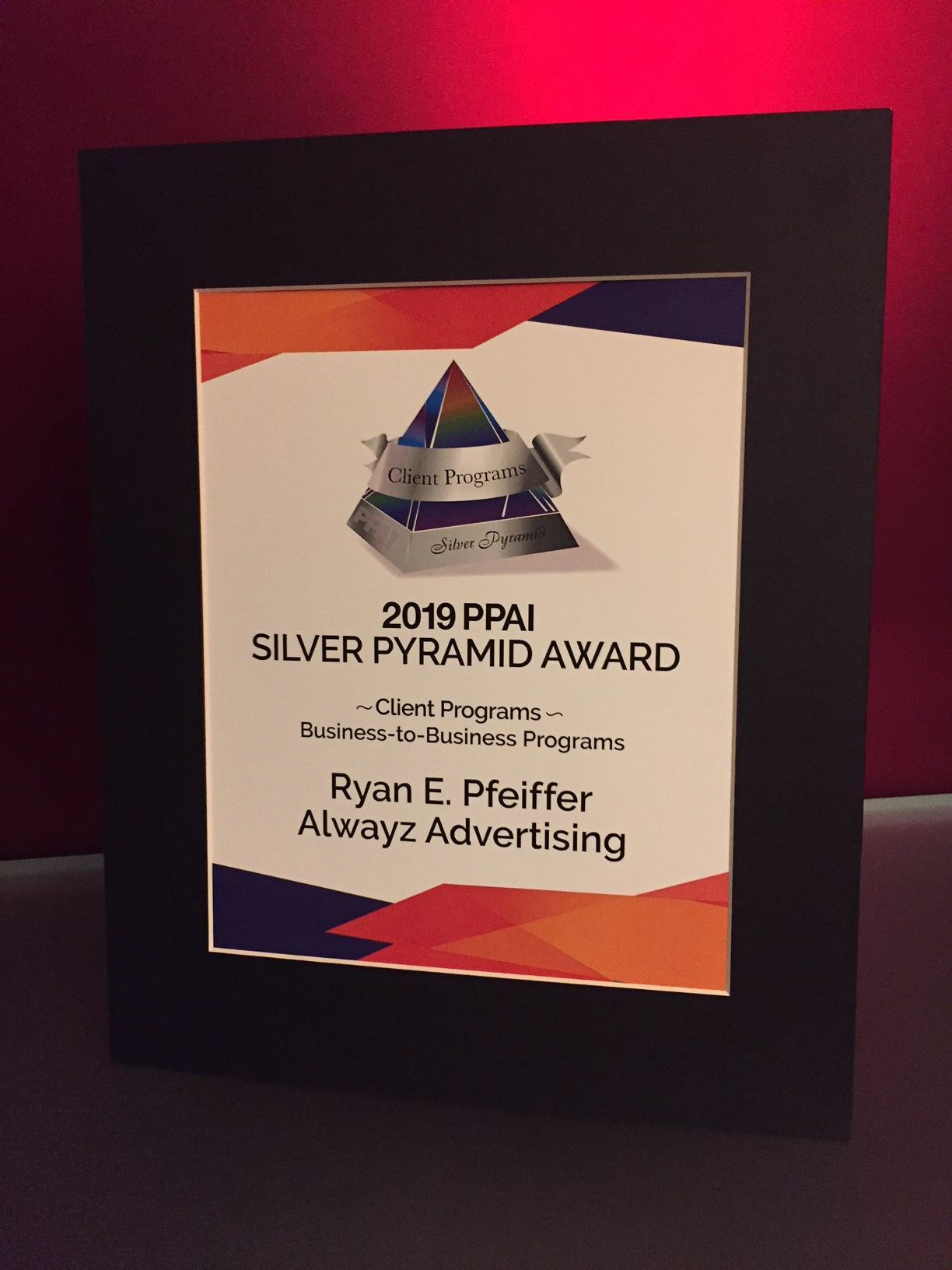 Result: 
Throughout the 5-Week mailing period, 24 boxes were mailed. 7 recipients contacted our client 
immediately upon receiving the package, prior to the follow-up call – making for a 29% response rate. 
17 more (100%) were receptive to the promotion and follow-up. The mailing yielded 4 New Clients and 
7 Potential Clients. This new business has generated 4 New Projects for Siteworks, LLC project 
management totaling $4.1 Million, and 6 new AccuEstimation™ Packages worth approximately 
$150,000.
In addition to the successful campaign results, my company won the prestigious PPAI Pyramid Award for Creative Excellence and was featured in our national trade publication PPB Magazine.